Our Team
Charu Bajaj - Managing Director
Charu is a seasoned professional with an extensive experience in the education domain. She has spent time in varied learning environments to understand the need of the learners and to define strategies to facilitate learning. A teacher by heart, she has been involved in conceptualising many educational programs based on experiential and inquiry based learning philosophy for schools, teachers and the students.
Her passion lies in promoting language skills amongst the young learners, therefore she has spearheaded projects to develop communication and reading skills of the learners.
She is a certified trainer by Dale Carnegie and a certified auditor by Quality Council Of India. Besides that she has been actively involved in CCE workshops by CBSE and Connecting Classrooms by The British Council.
An individual with the business acumen, she has been involved in strategizing business ideas and plans of varied school programs ranging from training, curriculum, and turn-key solutions for setting up new schools.
Skills And You is a dream that she along with her team members initiated to improve the way in which the teachers teach and the learners learn in the classroom. It is a platform for the teachers to hone up their skills and master the art of facilitation in the classroom.
Sangeeta Krishan – Education Advisor
Sangeeta is an educator and social worker whose keen interest in children and their cause is well known. Alumni of Loreto College and University of Calcutta, she has been teaching in renowned institutions across the country. She has presented papers in various forums both in India and abroad including the IBO, Singapore. An empanelled International Inspector for schools, she has represented the country in many inspections for quality schools in the Middle-East.
Ms Krishan has been the Principal, Baynan Tree School, New Delhi, the Academic Head, Extramarks Education and Head, Training and Curriculum at Bharti Foundation.
As the Patron of Ashraya, a school for the mentally challenged in Chennai, she has been deeply involved in the developing Individualised Learning Program for children with special needs and is focused to transforming them to be useful and productive members of the society.
A visionary, Sangeeta has mentored Skills And You team on the various initiatives. Her expertise lies in integrating various domains of cognitive, affective and psycho-emotional skills in developing holistic programs.
Sangeeta Gole- Curriculum Advisor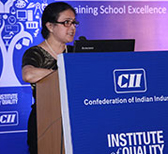 Sangeeta is an educationist with experience in teaching and training both in the rural and urban schools. She has worked as an advisor to P.R.E.S. (Pravara Rural Education Society) and has conducted a number of training and development programs for Yashada - Pune under the SSA (Sarva Shikshan Abhiyan) and RMSA (Rashtriya Madhyamik Shikshan Abhiyan).
As an approved Trainer by NABET - QCI (National Accreditation Board for Education & Training – Quality Council of India), she has conducted training programs and courses on PSA (Preparing School for Accreditation) & TSA (Training for School Assessors).
Besides being a Trainer and Assessor for NABET's school assessment programs, she has also worked as a consultant to organizations like Zee Learn and Integrated Education Team Solutions, Core Technology and various schools for Designing Standard Operating Procedures and Policy Frameworks. She has also worked on a project with IL&FS-Educational cell to develop audio-visual learning material for student teachers in the form of lesson plans. An active member at The British Council, Sangeeta has been involved in the GTA and the Connecting Classrooms programs.
She spearheads the 'Certification In Teaching Excellence' program at Skills And You with the objective to develop competencies and improved professional performance of the teachers.
Nishit Sacher- Director, Strategic Alliances
A Chartered Accountant by profession , Nishit was always passionate about teaching- learning opportunities that are available to the learners. He has extensive experience in the areas of technical, organizational and personal excellence involving leadership, change management, and learning effectiveness and improvement.
A firm believer and practitioner of organizational learning and 'leading from within', Nishit has successfully led and motivated his team by engendering a culture of learning, innovation and growth in his organizations. He has a vast experience in the field of teaching and nurturing the new breed of Chartered Accountants and Company Secretaries.
He has been teaching Financial Accounting, Corporate Accounting and Financial Management to the students of commerce for past 8 years. He has taught more than 5,000 students amongst which lies a long list of rank holders and achievers. He is a corporate trainer and a consultant and trains commerce professionals on AS and IFRS convergence.
He heads strategic alliances at Skills And You and his vision is to empower individuals, to make them thinking global citizens. He also mentors the (National Skill Development Corporation) NSDC and other government projects taken up by Skills And You.
Roopali Suri- Teacher Trainer and Consultant
Learning Evangelist, Roopali Suri, teacher trainer and consultant, is passionate about training development and delivery. With over a decade's experience in the training industry, Roopali has worked on content and training development for various verticals like pharmaceutical, education, BFSI, maritime and technology and software to name a few. She is adept in training needs analysis and holds a master's in education.
She designs workshops and believes in technology training for teachers. Her focus lies in addressing the teacher's skill gap in teaching through technology. She believes that training for teachers must be done at the grass-root level and it must orient teachers towards using technology more effectively.