13 years ago, Skills and You became a reality from a dream, a dream that Ms. Charu Bajaj (Founder & CEO) weaved for 8 long years. Ms. Charu was an academician by profession when she encountered the gaps in the teaching learning process and decided to take the plunge of bringing a change in the Indian education system. Although the road to success was filled with pits and puddles, the dedication and determination overcame all.
In the year 2014 the first office of Skills and You was established with its presence in just a few schools. However, within a span of 7years, the company has marked its presence all over India impacting more than 5 lac students, 1 lac teachers and 25 thousand school leaders.
Skills And You is a social enterprise, dedicated to bring a paradigm shift in the teaching-learning process. The organisation offers teacher training, curriculum and content designing, language development and school transformation program. Skills And You is certified by National Skill Development Corporation (NSDC) Ministry of Skill Development and Entrepreneurship, Government of India to train teachers, leaders and educationist on 21st century skills.
Management and trainers of Skills And You are a consortium of educationists who have worked in varied Indian demographics with an extensive experience of-
Classroom Teaching
Teacher Training
Curriculum and Content development
Researching on Innovative Pedagogy
Whole School Projects
Spoken English Program
The average experience of the trainers is 15-20 years of training in private schools and NGOs. The team has together trained approximately 1,00,000 teachers and close to 25,000 school leaders. We also have extensive experience in other educational projects such as starting a school, school transformation and curriculum development.
Vision
The Vision of Skills And You is to empower individuals and organisations with 21
st
century skills by providing quality educational programs and solutions to make them global citizens.
Our Directors
Charu Bajaj - Managing Director & CEO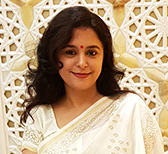 Charu is a seasoned professional with certification from Dale Carnegie and Quality Council of India. She is the founder and CEO of Skills And You, which is one of the leading educational enterprise, certified by NSDC (National Skill Development Corporation). Charu is a passionate entrepreneur who spearheads the team of dedicated professionals working towards the skill development of the individuals. Charu has been involved in conceptualizing many educational programs based on experiential and inquiry based learning philosophy for schools, teachers and the students.
An individual with the business acumen, she has been involved in strategizing business ideas and plans of varied school programs ranging from training, curriculum designing, development of language programs and turn-key solutions for setting up new schools.
She also mentors schools and other educational projects to share her experiences and learning for improving the process of teaching and learning.
Nishit Sacher- Director & COO
Nishit is a B.Com (hons) graduate from Delhi University and a qualified Chartered Accountant from ICAI. An Entrepreneur by passion, he has founded financial firms and is actively engaged in financial and business forums. At present, he is the Chief Operating Officer at Skills And You, which is one of the leading educational enterprise, certified by NSDC (National Skill Development Corporation). He has an extensive experience in the areas of technical, organizational and personal excellence involving leadership, change management and learning effectiveness and improvement.
A firm believer and practitioner of organizational learning and 'leading from within', Nishit has successfully led and motivated his team by engendering a culture of learning, innovation and growth in his organizations. He was always passionate about teaching- learning opportunities that are available to the learners and has a vast experience in the field of teaching and nurturing the new breed of teachers and trainers.
He also mentors his team on sales, marketing, brand building and other government projects taken up by Skills And You.
Ashish Sacher- Business Advisor
Ashish is a Graduate from Delhi College of Engineering and a Post Graduate from Xavier Institute of Management, Bhubaneswar. Having worked with various organizations, he is currently the Category Head for Consumer Business for HP Inc., India, one of the largest IT organizations across the world and a fortune 50 company.
A successful professional with over 14 years of experience in sales, product, category and business management, Ashish specializes in getting business ideas off their feet, setting up processes and structures and leading businesses through change. He also loves to coach and develop people and work with them to grow them into strong business individuals.
Ashish mentors the team at Skills And You and acts as an advisory to develop both internal and external processes.
Pankaj Vermani- Business Advisor
Pankaj is a graduate from IIT Delhi, a serial entrepreneur and has co-founded and grown two companies in the past, which went through a successful acquisition and got featured in multiple global forums including Red Herring Asia 100 and Deloitte India Fast 50. In his previous role, he was heading the Incubator / Company-Builder Mountain Apollo India. Currently, he is the Founder & CEO of Clovia, one of the fastest growing Lingerie brands in India.
Pankaj actively advises and mentors start-ups in the internet, mobile, consumer and education space. He writes regularly for technology blogs on team building, scale and business strategy. In his free time, he is a theatre buff and performs in the Professional Delhi Theatre Circle.
Pankaj guides strategic alliances at Skills And You and has been mentoring technology initiatives for the organisation.